Whether you are trying to save money or just prefer some company, a roommate can be a great option when renting an apartment! According to a study by Pew Research Center, one in three adults are currently "doubled up" in housing, or in other words, have a roommate. Choosing a roommate is one thing, but even the best of friends are bound to run into any of the all-too-common roommate disagreements. How you choose to navigate the issues will determine how harmonious your living situation will be in the long run.
1. Plan Ahead & Communicate Upfront
It may go without saying, but many roommates skip this first step all together. Deciding you are going to cohabitate can be exciting, especially if your new roomie is a friend, but it might feel uncomfortable at first to have discussions about money, space, and expectations. However, it's the most important conversation to have in order to preserve respect as you move forward. Meet at a fun restaurant or café to lighten the mood a little bit then open up the lines of communication. What are you comfortable paying? How many bedrooms do we need? Can my cat live with us? Should we share groceries?
It may feel weird to discuss finances and personal space, but if you try to understand each other upfront, you'll have a solid foundation while you live together. 

2. Be Self Aware
Not everyone was raised like you. What bothers you might not bother someone else and vice versa. Do a little reflecting on the habits you have including your general cleanliness. Are you lacking when it comes to picking up after yourself? Are you too neat? Identify some areas where you can loosen up a bit and areas that you can improve upon. Maintaining a good living situation is just as much your responsibility as your roommate's!
3. Leave the Notes Out of It
We're going to guess that every "nightmare roommate" story begins with a note. You know the kind, the passive aggressive post-it note left on the bathroom door that demands you do better in cleaning out the sink. Let's be perfectly blunt. It's rude. It might be difficult to avoid the temptation of writing the perfectly contentious message, but it won't be productive. Take a day to let the emotion run out and then take into consideration the issue at hand. A face-to-face, respectful conversation will more than likely help change the behavior, while maintaining a good relationship!
4. Be Mindful of Your Guests
Guests can be a big pain point in regard to roommates. You may be an extrovert who can't wait to invite your friends over to see the new place, but your roommate might be a little more introverted and would prefer some privacy and quiet time. Part of your initial discussion should center around how much you would like to have guests over; this can be revisited throughout your time living together. Finding a common ground here includes a lot of compromising. Regardless of how often you have visitors, it's important to remind them to respect your roommate's personal belongings and space the same way you would.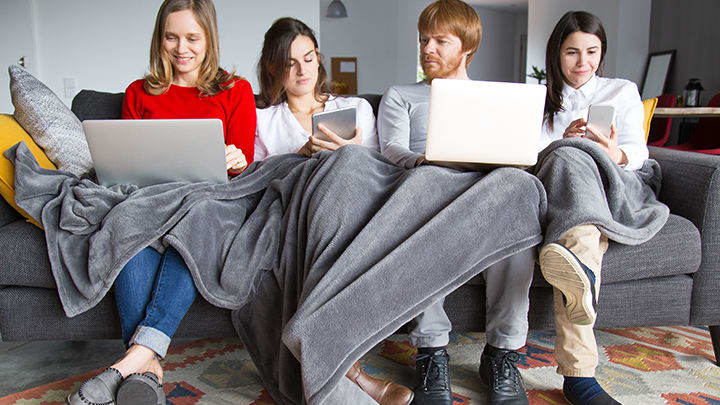 5. Find the Perfect Apartment for Both of You
If possible, it's helpful to select an apartment with your roommate. Finding an apartment together that matches both of your needs is a great start to cohabitating and you'll both have a say when it comes to your new space. The process of searching can also help open lines of communication for some of the issues we've discussed (or the unforeseen ones)!