Our apartments are a place where we can unwind and let the stresses of the day fade away. It's important to enjoy the space we live in, and most of us have a sense of pride when it comes to our homes.
Good interior design can affect our health and our productivity. This means an attractive space can make a huge difference in our lives. 
Looking to improve your mental health and increase productivity? A redecoration could be what you need. Redecorating your apartment will leave you with a place you're proud to live in and you'll want to show off.
Read on for 5 tips for redecorating your apartment in style.
1. Start Fresh
The best way to start redecorating your apartment is by cleaning it all out and starting fresh. Take some time to clear out all the clutter and things you don't want or need anymore.
Try to move furniture from the room and assess the space. Think about what you want your new style to be and envision it in your mind. Look at the things you've had for years and get rid of them if they don't fit your new style. 
You're going to want all the space you can get, so getting rid of old things is a cleansing process. You can move forward with nothing holding you back.
2. Choose a Few Color Schemes
A color scheme is one of the most important parts of any interior. It sets the tone of the whole room and influences the rest of the design.
Start off with neutral tones and throw in your own pops of color. Try to pick a different color scheme for each room too. It can freshen the place up a lot. 
Different colors in each room make it more sophisticated and give more distinction. Colors affect our moods, so try using blue tones in the bedroom, as it can calm you, and vibrant colors in the living room.
3. Add Some Plants
Plants have a lot of great benefits when brought into the home, and they look great too. They freshen up the room both in aesthetics and by cleaning the air in it.
Houseplants can help boost your mood, and they make your place look fresh, clean, and bigger. A tall plant can make your room look taller and smaller plants make it look more spacious. 
You don't need to get high maintenance plants that are easy to kill either. Go for cacti or succulents, as they thrive on neglect!
4. Mix It Up
The best thing about decorating your own apartment is that you get to mix it up and add your own dash of personality. Use this as a chance to get creative and make your apartment feel like you.
Mix together different styles or throw in some bigger pieces that catch the eye. Throw in some art or decorative pieces that add a subtle nod to your personality too.
If you can afford it, try to add some more expensive pieces in with the rest of your budget pieces. It can make a great impression, and you get to show off the things you love!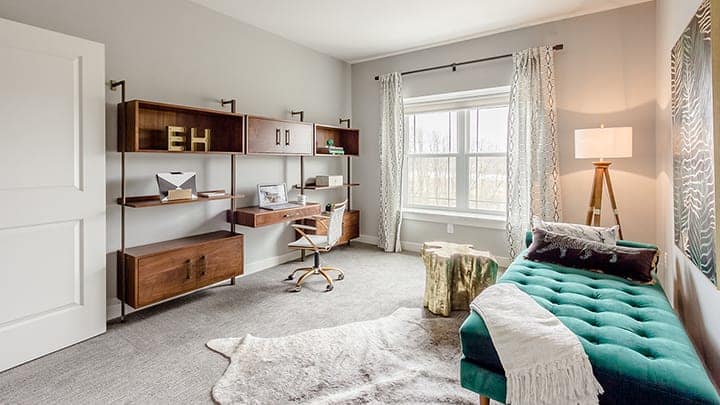 5. Work with What You Have
Redecorating your home doesn't mean you have to get rid of everything you own. You can change your whole style without buying everything all over again.
Instead, work around the items you already own. Got an old couch you love? Work around it and look for pieces that match or complement it.
Also, work with the space you already have. Whether it's a new development or an old apartment, there are different sizes you can work with. Don't buy things that are too big, or they'll make the place look crowded.
Divide areas of larger rooms for different activities. Set up an area of your living room to be a study or reading area, for example. It makes it easier to decorate, and you can use your existing furniture too.
Redecorating Your Apartment Could Be Life Changing
Redecorating your apartment might seem like a small thing, but it can have a huge impact on your life. It can help your mood and give you a new perspective too. 
Looking for a new stylish apartment to move into? Get in touch to see how we can help you find one.