Got a spare room in your apartment? We're moving in!
Just kidding, we're not moving in, but we might have some ideas of what you can do with that room. Having a spare room in your apartment that you can't figure out what to do with is a good problem to have.
In this post, we're going to give you five cool ideas for filling that spare room of yours. After reading this, you'll wonder how you've gone all this time with an empty room. Let's get started.
1. Turn Your Spare Room Into a Studio
When you've got an artistic mind in the home, you know how annoying it can be for everyone involved when they don't have a space to create. Musicians are loud, artists are messy, and writers need peace and quiet.
Use that spare room of yours to build an art studio for the creative people in your apartment. A desk, a nice chair, a bookcase, and whatever creative tools you need to create can bring the space to life.
2. Or a Game Room
If your apartment has no artists, you can turn the spare room into a game room.
Bring the fun and stock your spare room with board games from the classics to some of the new interactive games! Amazon has a ton of affordable games so you'll never have to play the same one twice. If you have a video gamer in the apartment, you can also include a TV and a recliner if space allows.
Other ideas include a fold-up poker table, tabletop games, or some retro video games!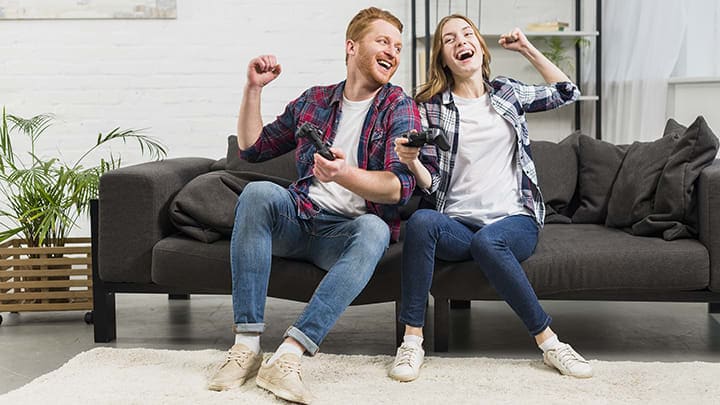 3. What About an Entertainment Room?
Piggybacking off of the game room idea, you could turn your spare room into an overall entertainment room for the whole family.
Whether you've got some readers, cinephiles, or TV fanatics in the house, you can accommodate everyone in one small space. Place a few comfortable chairs, some bean bag chairs, or a sofa in the room with a TV that is set up to stream. If you're looking to really provide the home theatre experience, you can even purchase a retro popcorn maker!
4. A Home Office
Whether you work from home, or just need a space to organize bills and paperwork, a home office can be a great addition to your apartment!
Every home office starts with a desk. If you are short on space in your spare room, search out a smaller corner desk that has plenty of storage underneath. Adding shelves can also create storage and make the room look larger. Finish off the room by placing house plants to freshen up the space & some neat desk organizers to keep everything in order!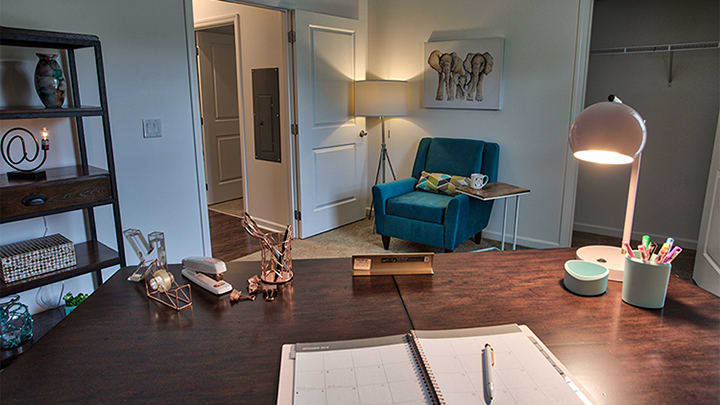 5. Mini Gym
Pulling a 180; you could fire up some workout equipment and build a mini gym in your spare room. If you've got the space, a few weights, foam rollers, and some bands will be enough to keep you active. Include a small TV, tablet, or laptop so that you can stream all of your favorite at-home workout videos. A small wireless speaker can also be a great addition to the home gym and will keep the bass to a minimum so you won't bother the neighbors!
If you're more of a yogi, your mini gym can be your yoga oasis. All you need is a mat, some floor space, and maybe an essential oil diffuser!
Be Creative
If none of these spare room ideas tickle your fancy, brainstorm with your roommate or family members to see what they want to do with the extra space.
There's no wrong way to go except for leaving it empty. Even using it for storage is better than having wasted or unused space in your home. Have fun with it and create the best space for you and yours.
To learn more about Morgan Communities and how we can help you find the best space and community for you, contact us.